Co-Op Camp 2023: Under the Big Top will be held on September 29-October 1, 2023 at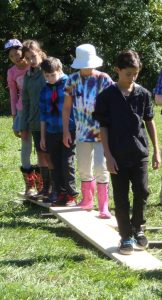 (the Scout Camp is located at 7484 Twiss Road, north of Kilbride, west of Milton).
All Guide, Pathfinder and Scout groups (ages 10-15 years) planning to attend this camp must register via REGISTRATION, and return them with the Registration fee to Leanne Succo, Co-op Registrar, 38 Lasby Lane, Halton Hills, ON, Canada, L7J 2W9 (or registrar@coopcamp.org) by Friday, September 22, 2023.
There is an "All Leaders" meeting held at camp on the Friday night that all groups must be represented at. Payment may be made at PAYMENTS.
NOTE: There will be Virtual all-leaders meeting on the Sunday prior to Camp.
NOTE: Guiding units must also complete all required Safe Guide forms and submit for and receive approval prior to the camp weekend. See REGISTRATION for sample forms.
---
A LATE FEE APPLIES AFTER FRI. SEPT. 22, 2023.
REGISTRATION & FEES WILL BE NOT ACCEPTED AFTER WED. SEPT. 27,  2023 (6pm)
---
PLEASE NOTE:
You come self contained… We provide the program!
Venturers, Rovers & Rangers are welcome to register as Offer of Service
All Leaders will be required to help in running/staffing events
Since the Saturday activities are active, we ask that all campers please carry a water bottle during the activities and come prepared for rain or shine!
---
REGISTRATION
Cost is $25.00 per person + HST ($3.25)
$20.00 (no HST) deposit per unit/section –

Accepted until July 22, 2023

Venturers/Rover/Rangers/Advisors as "Offer of Service" is $25.00 per person + HST ($3.25)
Please obtain Registration Information and Spreadsheet at REGISTRATION
Registration fees can be paid by CHEQUE payable to "Scouts Canada – Co-op Camp", or via PAYMENTS
send/deliver your cheque payment to:  Leanne Succo, Co-op Registrar, 38 Lasby Lane, Halton Hills, ON, Canada, L7J 2W9.
Guiding units on centralized banking can
pay with your Unit's Visa Card, via our PAYMENTS.

Scouting/Guiding Insurance will not cover campers who are not 10 years old in the year of the camp  (i.e. youth must be 10 years old by Dec 31st).

As we must limit the camp to no more than 1000 campers' – registration is on a first come first served basis so register early!
Please note that refunds cannot be made after September 16, 2022.
There is a $25+HST late fee for registrations (spreadsheets/forms & fees) received after Friday September 22, 2023. Registrations (spreadsheets/fees) are not accepted after Wednesday Sept. 27, 2023 (6:00pm) and NOT at camp.
If at the last moment you have someone sick don't fret, you may substitute another youth in his/her place. Substitutions that do not alter your total head count can be made at the camp providing the proper forms are submitted (completed registration & substitution forms). If someone is not attending and is not being replaced with a substitute they must be entered on the Substitution Form with the word 'Cancel' in the Names To Be Deleted / Cancelled section Notes column. No refund will be made.
Sorry but NO registrations or fees will be accepted at the camp.

Each camper must be a member in good standing in either Scouting or Guiding. We now require:

each camper's membership number (from Myscouts (Scouting) or IMIS(Guiding).

also, we require each camper's birth date.

We have a limited supply of picnic tables therefore the maximum you may use from the camp is one table per site and they are first come, first serve. We suggest you bring your own table(s). There is a link on the Co-op website that will show you how to build your own picnic table. (A great project for your group!)
Please be aware that the number of persons registered determines your campsite size.
---
CO-OP CAMP RADIO
We'll try to move you through the Camp Manitou parking lot as quick as possible. On your way to camp take advantage of the camp radio station set up to provide you lots of info about the camp schedule and activities.
TUNE INTO  YOUR RADIO TO
 90.1 ON THE FM DIAL
---
CAMP ARRIVAL
For those Unit/Section Leaders who wish to drop off their Unit/Section gear (or trailers) in advance of the camp, gates will be open from 12 noon until 4:00 p.m. on Friday. Once you enter, please locate a Co-op Camp Staff member at Camp Manitou in order to find your campsite.
Guiders may be required to produce their approved Safe Guide information at registration.
Registration opens at 6:00 p.m. and will close at 9:00 p.m. The blue Registration canopy will be near the Picnic Shelter.
Late arrivals should check in at Rotary Lodge
For safety reasons no units/troops will be allowed on site until registration opens at 6:00 p.m. and a unit leader has checked in.
We allow 2 vehicles (2 per unit/troop) carrying gear to proceed directly to their site, unload and return to the parking lot as soon as possible. No vehicles will be allowed on site during the Camp. Cargo trailers are allows; let us know when registering if you will have a cargo trailer on site.
The Health Forms will not be handed in at Registration, but you will be required to acknowledge that you are in possession of a completed form for each person attending camp.
Group leaders will also be required to acknowledge that they hold a completed photo release form for the group members attending camp.
Groups are required to provide proper ratio on Saturday activity teams. e.g. if you have 10 youth on teams, you must have 2 adults assigned to teams. (Ratio of 5 to 1).
---
UNIFORMS 
We ask that during arrival, departure, closing ceremonies and at Guide/Scout Own all persons will wear official uniforms. This can be either the formal uniform or recognized camp uniform. Members of Guiding are reminded that Guiding regulations require that camp hats must be worn.
---
SAFETY
Fire regulations require at least one properly charged fire extinguisher (5lb. Chemical) must be on each site. If your group does not have one ask around to borrow one for camp!
Each site must have a first aid kit available to handle minor problems that may arise.
Co-op Camp's First Aid will be available to treat any major emergencies or problem and will be centralized in Rotary Lodge. Please don't hesitate to ask for help.
It is the Unit/Section leader's responsibility to look after their unit's heath forms. In the event of an emergency the leader in charge will have to produce the health form and health cards for their youth at the hospital.
---
NOTE
Hospitals now require that a current Health Card must be shown prior to treatment.
Availability of Health Cards is the responsibility of the Leader In Charge.
---
VISITORS
With all that's going on at camp we ask that all visitors register with security. Please check in at Rotary Lodge before proceeding into the camp. When you depart, be sure to check out at as well.
---
PICNIC TABLES
Limited supply of picnic tables; max ONE table/site. Bring your own, see Camp Table Plan.
---